Dr. David M. Cotlar, MD
Dr. David Cotlar is a second-generation native Houstonian who attended Bellaire High School, then graduated from the University of Texas magna cum laude with a B.A. in psychology. He attended Baylor College of Medicine, receiving his M.D. in 1973, and stayed in the Baylor program for his pediatrics residency which included Jeff Davis, Ben Taub, and Texas Children 's hospitals. He is fellow of the American Academy of Pediatrics and has been board certified since 1976, recently fulfilling the recertification process for the American Board of Pediatrics in 2009. He has for many years been a member of the Texas Medical Association, the Harris County Medical Association, and the Baylor Pediatrics Alumni Society, and on the volunteer teaching staff at Baylor College of Medicine as Associate Professor of Pediatrics.
Dr. Cotlar has been in solo pediatrics at the same location since setting up his practice at the newly opened Memorial Southwest Hospital Professional Building in 1977. He directed the pediatrics division of the Hospital's Family Practice residency program for several years and more recently has been involved in teaching Baylor medical students as an Assistant Clinical Professor in Pediatrics. Like most pediatricians, he has developed a special interest in the preventive elements of children's medical care, recognizing that pediatricians are in a unique position to reduce the risk of myriad disorders in later life. He also has a special interest in the moral and character development of children, and the impact of contemporary media exposure.
He has been married to another second-generation native Houstonian, Bonny, since 1971, and they take great pride in their daughter and four sons, all married, as well as a growing collection of grandchildren in four cities. Dr. Cotlar's interests include classical music (which he has taught to elementary school students and attempts to produce on the violin), people/community photography, non-fiction reading, baseball, and daily swimming. He has in recent years been the recipient of awards for "Texas Super Doctors " in Texas Monthly, from 2010 through 2019, "Houston's Best Doctors" in H Magazine, "America's Top Doctors" from Consumers' Research Council, and the "Patients Choice" Award. He enjoys clinical practice very much and hopes to continue it, G-d willing, for years to come.
---NOTICE---We are providing telemedicine. Please call our office for more information or to schedule an appointment.

---
Mary Johnson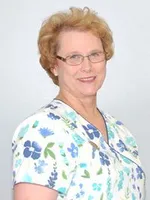 Mary Johnson is our front office lady, taking care of patient greeting, telephone receptionist, and various other administrative tasks. Mary is from San Antonio, is married with three children, and is licensed as a CNA.
She has a seven year background working with Weight Watchers, and has been in our office for three years. She very much enjoys the personal interaction with all our patients and their families.
---
OUR OFFICE
Our office is located at 7777 Southwest Freeway Suite 946 Houston, TX, 77074. This is in Medical Plaza One of the Memorial Hermann Southwest complex, situated near the Beechnut exit of the Southwest Freeway. Our building is the one connected by walkways to the Hospital and is across the driveway from the garage (which also has underground access). There is also surface parking available. Our building has three clinical laboratories within it, accommodating almost every insurance plan. X-ray and other imaging facilities are located in Medical Plaza Four, a few minutes' walk or from our building.
Although Highway 59 offers the fastest and most convenient route from Sugarland or other areas which benefit from a freeway approach, for areas such as Meyerland, Bellaire, or other nearby southwest neighborhoods, surface streets are easier and much quicker.